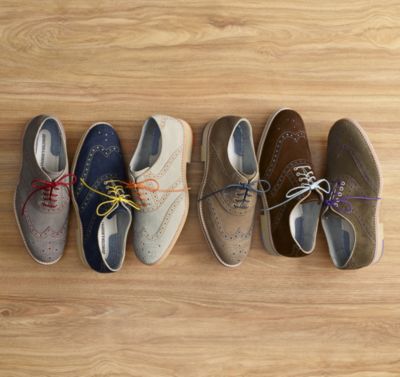 Believe it or not, it's almost spring… right? RIGHT??? God I hope so. Well for now (even with the impending snow storm on Thursday) let's just ASSUME it's almost spring. We better be prepared!
I do pretty much whatever I can to add some pop of color in almost everything I wear. You don't have to make it super-obvious when you're trying to match with color, so that's what makes Johnston & Murphy's Ellington wingtip shoes so awesome. It's that subtle hint of color that makes it really stand out. Yeah a suede wingtip alone will catch someone's eye, and when it does the little pop of color takes it from there and puts you a cut above the rest.
I especially like the dark blue/yellow combination.
$140 at Johnston & Murphy