As COVID-19 concerns subside and restrictions lift there is a desire among many people to return to traveling and to explore new destinations—and Barbados is prime to be a top pick, especially after Travel+Leisure named it among the "The 50 Best Places to Travel in 2022."
Increased marketing by Bardados' tourism officials as well as interest in singing sensation Rihanna's homeland, has raised the eastern Caribbean island's profile in recent years. Pre-pandemic, Barbados, or "Bim" as it's affectionately called by Barbadians, was experiencing a mini tourism boom with the U.S. as the top source market. From 2008 to 2019, Barbados had an average of more than 1.1 million inbound tourist arrivals each year.
In conjunction with National Travel and Tourism Week, May 1 to 7, Barbados tourism representatives are specifically targeting potential travelers from the Washington, D.C. area. On Wednesday, May 4, Jackie Restaurant is hosting "Barbados is on the Menu." Jackie's James Beard-nominated chef Jerome Grant as the Executive Chef. Chef Jerome Grant is being joined by four award-winning Barbadian chefs and mixologists for a unique menu spotlighting Barbados cuisine. The special three-course menu is $65 per person and reservations can be made online.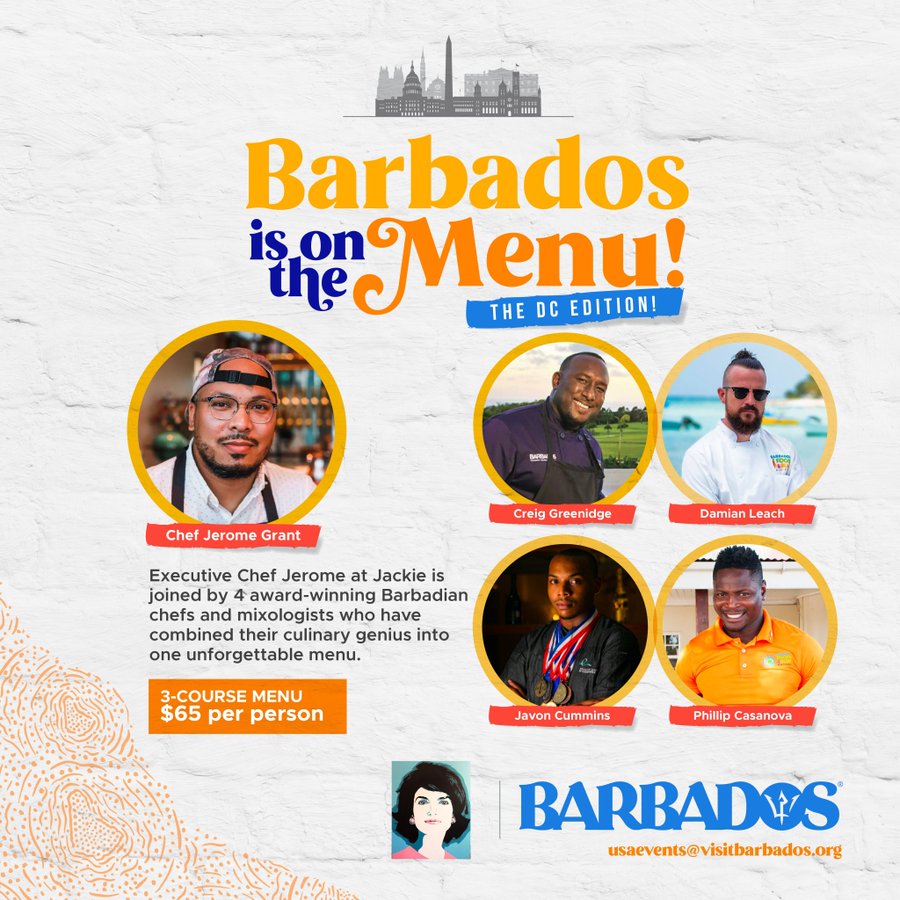 Eusi Skeete, Barbados Tourism Marketing Inc. (BTMI) Director USA, expounding on this opportunity to connect DC and Barbados explained, "We have noticed a huge interest from the DMV area in the Barbados offering with additional interest in a year-round D.C. to Barbados flight. We want persons to fall in love with Barbados like so many travelers have, and so we are creating a specially curated experience – giving attendees a taste of what the island has to offer."
In addition to the special dinner, Barbados is also welcoming the DMV community to its stately embassy as part of Passport DC's Around the World at the Embassy Tour. On hand will be chefs and mixologists who will display their talents through culinary demonstrations and rum tasting masterclasses. In addition, potential travelers can learn all about happenings in Barbados from BTMI, which will be serving up updated information on travel protocols, special offers, product development taking place on the island, and music and food representative of Crop Over, the country's summer-long festival featuring culture, cuisine, and Carnival.